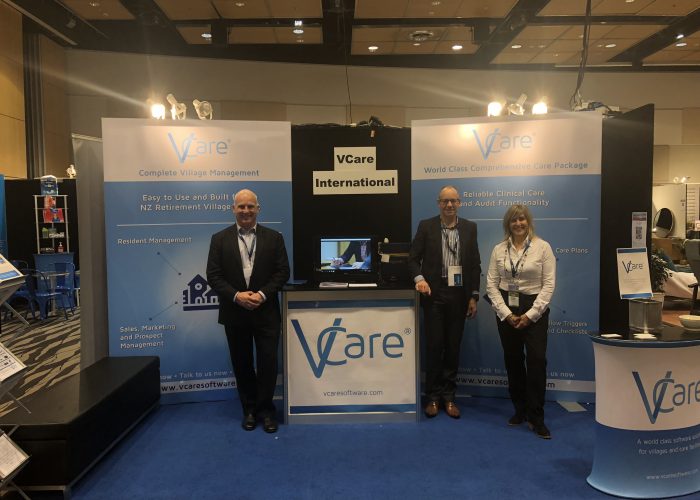 Award sponsorship – VCare Legendary Service to the Aged Residential Care Sector Award
VCare is proud to be sponsoring the VCare Legendary Service to the Aged Residential Care Sector.
This award recognises the outstanding contribution of someone who has been part of the aged residential care industry for more than ten years. This person will have continuously made a difference in the lives of numerous residents and staff members. The winner of this award could be anyone from a senior manager of a large group, to care, staff, non-care staff or a volunteer in the aged residential care industry.
Keynote speaker sponsorship – Tadgh Daly, Chief Executive, Nursing Homes Ireland- Nursing care in Ireland: Similarities and differences to New Zealand
Tadhg Daly is Chief Executive of the Nursing Homes Ireland, the representative organization for the private and voluntary nursing homes sector. Nursing Homes Ireland was formed in Jan 2008 following the amalgamation of 4 nursing home representative organisations.
Tadhg was formerly CEO of the Irish Nursing Homes Organisation (INHO) and was one of the key figures that led to the establishment of Nursing Homes Ireland.
Prior to joining INHO in 2005 Tadhg worked with the Irish Society for the Prevention of Cruelty to Children in a number of senior management positions.
VCare is proud to be sponsoring the keynote speaker Tadhg Daly
New Zealand's leading software platform for your rest home, hospital or retirement village.  VCare manages your administrative, billing, care and compliance needs efficiently and accurately which means better care for your residents.
VCare International is New Zealand's top Retirement Village and Aged Care Facilities software solution provider. It will help you meet all your care planning, support planning and resident/service user recording requirements practically and in line with best practice.
VCare is cost-effective, comprehensive and built to meet the demands of the growing retirement village and aged care industry.
Solutions are available via desktop and mobile applications, allowing staff to access resident information from anywhere. It's time to reduce the time and physical burden of paper records.
Take VCare with you – VCare Any-ware
Access VCare from anywhere.
Whether your staff use an iPhone, iPad or Android device, they can have mobile access to your existing VCare system while visiting residents, relaxing at home or wherever else they may be.
VCare Any-ware enables carers, nurses and other clinical staff to access resident care plans, notes and observations and resulting triggers from the devices in the palm of their hand.
The app also allows on-call clinical staff to access clinical information and/or care plans from the comfort of their own home or wherever they need to access this data. This easy to use app can be installed across a wide variety of Android and iOS devices and works as part of the VCare solution.
Events
Resident Summaries
Assessments
Vitals
Progress Notes
Measurements
Observations
Fluid Charts
Bowel Charts
Food Charts
Resident History
Proudly exhibiting and sponsoring the NZACA Conference 2019
Come and visit VCare at the NZACA conference from the 21st-24th October at the TSB Arena or click here to request a demo.