The future of health monitoring
AI-based systems will almost certainly become the essential tools of modern-day healthcare and aged care workers. The capacity of these systems to capture and process data that makes predictions, recommendations, and decisions that exceed the quality and speed of decisions being made by people working in aged care today will drive demand. Incremental changes across technology areas will continue to combine to improve the care of the elderly.
Technology-based developments driving progress include:
The digitalisation of almost all devices (essentially meaning the capacity to capture and 

communicate information)
The devices, including cameras and sensors, are becoming more capable.
Software is becoming more sophisticated in its ability to collate, analyse, predict, and

 

recommend (AI and machine learning)

 

Improved internet connectivity (low cost and readily available) and the widespread

 

adoption of cloud computing are enabling interconnected intelligent ecosystems to

 

flourish – often on a global scale.
Increased accessibility – global advances in software are almost instantly available at

 

commoditised prices to everyone. The

internet removes geographic barriers to buying

 

and drives prices down through global competition.
People, including elders, are increasingly technology aware and expecting to be able to

 

monitor themselves.

 
An interesting trend with monitoring systems is that they are becoming much less invasive. As an example, infrared cameras and sensors require minimal human time, can operate continuously at a low cost, and they mitigate many privacy concerns.
An exception to this trend is implanted biosensors. The use of implants is growing given their value in helping to manage a range of chronic conditions such as heart disease, diabetes, and Parkinson's. Regardless of where data is sourced (implant, camera, sensor, other), AI software in the cloud is increasingly powerful and that combined with the ease with which carers, family members, clinicians, researchers, and others can access and share the information means that the decisions/treatment plans for those being cared for will be improved by AI.
Interesting examples of pioneering companies include:
Myant Inc, (www.myant.ca/) has developed smart underwear that could become one of the most reliable and effective ways to detect and prevent health issues. While being worn, biometric sensors can measure for example, sleep quality, activity, stress level, temperature, undertake electrocardiography (ECG) to send data back to a corresponding app. Underwear is probably a good choice for a smart garment because it makes consistent, close contact with the body – a must-have for continuous skin sensors. Myant's underwear innovations fit into the larger trend of e-textiles and smart clothing, powered by AI and tiny semiconductor technology. Myants platform also analyses data and provides guidance on lifestyle changes and allows users to share information with healthcare providers
Molly (www.sensely.com ) is a multi-functional virtual nurse, visualized as an avatar. Molly provides remote support for common medical conditions and tracks a patient's weight, blood pressure, and other parameters generated by monitoring devices. Molly enables elders to discuss their health requests privately and conveniently book an appointment with their doctor.
AUT – here in NZ is running a research project where radar is being used to monitor the vitals (heart and respiratory rates) of multiple people in real-time. A great example of less invasive, low-cost technology, fulfilling an important function.
Uneeq (www.digitalhumans.com) and Soul Machines(www.soulmachines.com) are two New Zealand-based hi-tech companies that were working in the realm of "digital humans". Whilst neither company is specifically focused on healthcare or monitoring because their digital humans can have a conversation with someone, they have considerable potential. Digital humans look life-like, can see you, hear you, and change their conversation on the fly based on their ability (facial recognition) to determine your emotional state (sentiment analysis). They can monitor the emotional state of whoever they are talking with and additionally, their conversational ability enables them to deliver therapeutic benefits for people with conditions such as Dementia and Depression.
Several large  publicly traded Aged Care companies have a focus on innovation, are
very aware of driving forces referenced above, but despite that do not appear to be making 
significant investments in AI or more specifically in AI-based monitoring. Perhaps that points to 
opportunities for aspiring start-ups.
Widespread AI-based monitoring system adoption will require the systems to be configured
based on the overall environmental contexts, as well as meeting all the other usual
requirements such as ease of deployment, low cost, and overall value.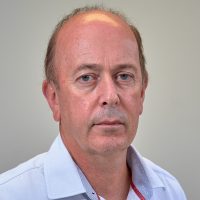 Ian Hight
Client Director – Jade Software
Ian is an experienced business leader in technology, passionate about bringing together people and
technology to address organisational challenges. With an extensive track record working with businesses on the
development of strategy, change management, and the adoption of new technology.
Fervent about innovation and recognised as a committed customer advocate with extensive
experience in the deployment and operation of complex technology as well as the management of
technology teams.
Ian has recently focused on the use of technology within aged care sector.