Four reasons you should get in contact with VCare today
Built specifically for the New Zealand market – we understand your needs

A broad range of different sized organisations use VCare – from single-site owner-operators to large groups

Care and Village functionality that works together to support the continuum of care

Interoperability with InterRAI
Built specifically for the New Zealand market – we understand your needs.
One of the biggest concerns for Aged Care operators in New Zealand is ensuring that any system implemented in their facility (Resident or otherwise) fully addresses and meets the specific needs of the NZ market. In particular, the funding model across different markets such as New Zealand and Australia can vary considerably and from an efficiency perspective it's important to get it right.
Shaping a solution to fit the New Zealand market can cause a range of issues down the track for your staff and team. It's like saying because they are the same colour you can try to fit a square peg into a round hole. By choosing a system specifically designed for the NZ market, you don't have to worry about shaping the system to fit your organisation as your organisation will naturally fit into the system.
VCare is 100% NZ owned and operated, and is specifically designed for the NZ market. This means that we understand your needs and how you can achieve these and grow with VCare. We are 100% committed to the New Zealand aged care market at all levels
 "VCare developed in New Zealand, so that means that they understand what the operator requires, they understand what we require for the financial statements, and it knows how to make the financial information available to us in the format that we require it."
Gordon Hansen, Partner, PKF Goldsmith Fox Audit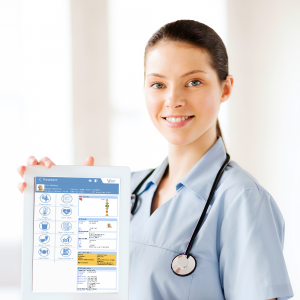 A range of clients
VCare's client base ranges from rest home, hospital, dementia care and retirement living through to intellectual and disability care facilities.
No matter your size, big or small, VCare is here to help. The VCare solution is suitable for all businesses in the residential care market regardless of size so contact us now to discuss how VCare can help your organisation.
Both Care and Village functionality co-ordinate together to support the continuum of care
There is a good reason why VCare is New Zealand's leading aged care software solution provider. VCare is a complete clinical, financial and administrative system that supports Residential Aged Care, Independent Living,  Day Care, Disability care and much more.
All information within VCare is in real-time, so records are always up to date. As residents move from independent living, or any other form of care, their clinical care records move with them supporting a continuum of care.
VCare is the number one solution choice in quality Aged Care and Retirement Living.
"VCare adds a great deal of value to our facility across departments, and I'm not just talking village and care it also includes sales, so there's an instant availability of information at my fingertips. Sales Manager, Care Centre Manager we all have this great tool to use now".
Russell Walters, Village Manager, Summerset
Interoperability with InterRAI
VCare is an electronic way of managing all of your care planning and resident record requirements practically and efficiently. VCare has a range of experts on staff to assist you with anything that you may need in relation to the system. The VCare team are based in New Zealand, so we are here to help whenever you need it.
Did you know it was one of our clients who, using VCare, made history by being one of the first in the world to import interRAI assessments?
Two-way integration with InterRAI is not currently possible for any software vendor in NZ. If two-way integration with interRAI ever became possible, then VCare would include that functionality immediately. If you are unsure about what can be done please contact interRAI directly or contact us and we can put you in touch with someone from interRAI who will be able to help.
The present position on interoperability from interRAI is:
"The current interoperability approach for interRAI is that external systems are able to pull information from interRAI using one of the two mechanisms described below but are not able to push information to interRAI"
Response from interRAI NZ Governance Board
VCare Summary
New Zealand's leading Aged Care residential specialist software system is designed specifically for the New Zealand Aged Care and Retirement Living industry. VCare is a cost-effective and comprehensive package that is easy to use, reliable, comprehensive and efficient.
VCare functionality includes:
Resident Management

DMF and Billing Management

Sales, Marketing and Prospect Management

Contracts and ORA Management

Measurements and Assessments

Care Plans

Health Systems Integrations

Workflow Triggers and Checklists

InterRAI interoperability

And much more
"It's the accuracy that VCare gives you that enables us to give better care and better outcomes for the residents".
Julia Mead, Facility Manager, Elmswood Retirement Village