Five ways VCare can help save you time in your Aged Care facility
An extensive workload combined with a time poor environment results in aged care management contantly being on the lookout for more efficient ways of managing their facilities. If you're looking for ways to improve productivitiy and increase efficicency, reduce time managing resident records, and provide the highest level of care, implementing an aged care software such as VCare could be the right solution for your aged care facility or retirement village.VCare can help you to save both time and money.
Here are five ways VCare can help save you time in your aged care facility:
Automated care management
Admin, sales and marketing
Financial functionality
Reporting functionality
Mobile functionality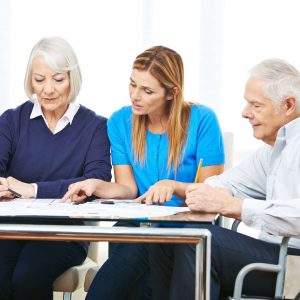 Automated care management
VCare is an electronic way of meeting all of your care planning and resident recording requirements practically, efficiently and in line with best practice.This is achieved by reducing manual data entry, giving your staff more time on tasks that add value to your facility such as caring for your residents. 
Examples of Care Management functionaiity within VCare include:
VCare allows the review of completed, in progress and overdue care items.
Triggers and checklists can be set to ensure care actions are completed.
VCare can help with performance management as it maintains a record of the task, date, time and who completed the work.
The assessments and events functionality can have built-in decision trees and pathways which aid in critical thinking.
'Help' text in assessments can prompt staff and guide their clinical decision making as well.
"The touch-friendly kiosk has been a real winner for us. Staff comment on how easily accessible information is for each resident. Care planning and routine assessments are structured enabling a systematic approach. Daily care tasks can be recorded in a user-friendly timely manner."
Alison Moore, Director of Nursing
Admin, Sales and Marketing
The admin, sales and marketing functionality within VCare provides access to resident information promptly and efficiency, giving you more control and management over your facility, so nothing gets missed. This module ensures all enquiries are managed promptly . Prospects can be added to a waiting list for both retirement villages and residential care facilities alerting staff when space becomes available, allowing facilities to maximise occupancy levels.
Prospect Management
Waiting Lists
Holds
Document Management
"When a family member enquires into the care of their loved one, we can access their file while we are on the phone. Not having to search out a paper folder gives us more effective outcomes to families and residents."
Julia Mead,
Elmswood Retirement Village
Financial Functionality
VCare's financial module gives managers and administrators the tools to effectively handle funding and billing in an efficient manner consistent with NZ health funding models and to pass that billing information to the organisation's wider financial systems.
VCare includes an integrated debtor's ledger and extensive billing functions for managing a range of billing scenarios, including comfort/trust accounts. This module reduces the time needed for invoicing and creates a better process for account management.
VCare's financial module functionality includes:
Services
Receipts
Bank Imports
Direct Debits
Invoicing
And much more
 "The invoicing each month is a lot more efficient and saves me a lot of time. Receipting is also a lot quicker through VCare, the receipts can be imported directly from the bank, which has resulted in more accurate records which is great."
Michelle Kuru, Elmswood Retirement Village
Reporting
With VCare, as soon as data is entered into the system it can be included in a report. This means your staff can simply run reports from VCare rather than having to then manually compile all the data from existing paper files before creating their custom reports.  
Within VCare, multiple reporting options are available, ranging from analysing falls to being able to plan care items and identify ongoing risk areas. Giving staff the ability to access relevant reports will help them perform to the best of their knowledge and in line with aged care accreditation.  
Some major benefits of  VCare reporting:  
Report in real-time
Information as you need it
Gives you the ability to analyse the data efficiently
Comprehensive and detailed reporting
Ability to extract reports
Easy to develop
"I would recommend VCare – very professional, and it has incredible reporting functionality for us. I also like the global view as you don't feel so disjointed. Just the incident reporting alone is going to save me hours of work.
Lizzie McIvor
Presbyterian Support Otago
Mobile Functionality
By embracing the shift towards mobile functionality within your facility, staff and management are no longer restricted to a desk or wherever the piece of paper is. Staff can access resident information on the go, no matter where they are.
Staff are no longer wasting time recording results manually then entering these into a system later on. This results in improved information validity as resident information is entered as it happens. The resident information is therefore more timely, easier to recall and requires less work as it avoids the double handling of information from paper to computer. It also means other staff don't have to run around trying to find the latest notes on a resident, if these haven't been entered into a system.
Incident information can be entered by all staff at any time, reviewed by management and incident reports can be extracted from the data entered. Managers can receive instant notification of any incident that have occured by email.
"The staff would sit together and do their notes together, they would help each other out and it created a great team aspect in the home. The technophobes were a bit nervous when they first heard about it but were relieved when they realized they could do it"
Jo Sime,
Presbyterian Support Otago